Local. Trusted. Family Owned.
Roof Cleaning Newport Beach CA
Top-Rated Roof Washing
in Newport Beach CA
Have you been searching for top-notch professional roof washing Newport Beach, CA? Look no further than our experienced team at The Pressure Washing Guys. We have been providing comprehensive roof cleaning services to residents and businesses for over ten years and have earned a reputation for our high-quality work and 100% customer satisfaction.
As a family-owned and operated roof cleaning company, we work towards making your roofs the best-looking in the neighborhood. We also strive to increase the lifespan of your roofs with our regular roof washing techniques. Our roof cleaning company thoroughly inspects your roofs and surroundings to determine the cause of the dirt so that it can be avoided. Your roof will remain durable, sturdy, and sparkling clean with us.
Our team uses the latest techniques and equipment to thoroughly clean your roof, removing dirt, animal droppings, mold, grime, and other contaminants that can damage your roof and shorten its lifespan. We offer various roof cleaning services, including soft wash roof cleaning Newport Beach, CA, tile roof cleaning, and more. We are equipped to handle any roof and will work diligently to ensure your roof is left looking brand new.
Searching for Newport Beach
Roof Cleaning Near Me?
Not only does regular roof cleaning help to maintain the appearance and value of your home, but it can also help to prevent costly repairs down the road. Don't wait until it's too late to take care of your roof – schedule a roof cleaning with us today. Our team of professionals will help keep your roof pristine all year round.
If you're searching for a Newport Beach roof cleaning near me, look no further than our team at The Pressure Washing Guys. We are a trusted and reliable roof cleaning company with an adept team of courteous and super-friendly professionals who will listen to all your project needs.
Regarding roof soft washing services, our team uses a gentle pressure washing technique to remove dirt, algae, and other contaminants from your roof, leaving it looking clean and refreshed. We understand that your roof is one of the essential parts of your building, and we ensure that our services are completed to the highest standards. When you choose us for your roof cleaning Newport Beach, CA, you can rest assured that you are receiving the best service available.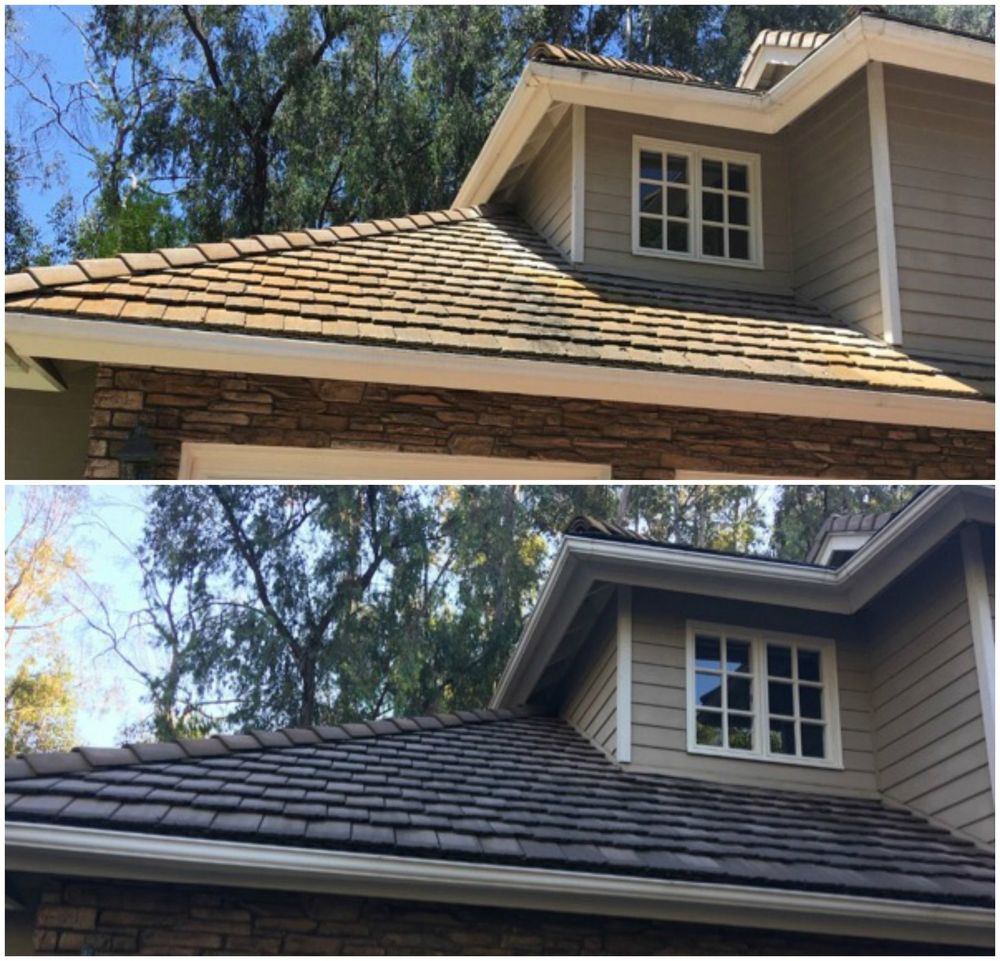 We hired *COMPANY NAME* for *SERVICE* and couldn't be happier with their service! From start to completion they were professional, on time, friendly, and were a pleasure to work with.
We couldn't be happier after the *SERVICE* service from *COMPANY NAME*. We will definitely be hiring them again in the future.
*COMPANY NAME* did an amazing job on our home. We would definitely recommend this company to anyone looking for professional *SERVICE*!
I highly recommend *COMPANY* to anyone who's looking for *SERVICE*. They were very thorough and reasonably priced as well!
Local. Trusted. Family Owned.
Soft Wash Roof Cleaning Newport Beach CA Residents Trust
Call Today if You Are Searching for
Newport Beach Roof Washing Near Me
Newport Beach, a coastal city in southern California, has proximity to delectable attractions. The city is also known for its large, boat-filled harbor. One of the popular neighborhoods in the city, Balboa Peninsula, has two piers, Balboa and Newport Beach Piers. You will find an old-school amusement park with a Ferris wheel and ocean views called the Balboa Fun Zone in the area. Local beaches include the Wedge and Corona del Mar State Beach.
At The Pressure Washing Guys, we are your best bet to achieve a brand-new look for your roofs without renovating them. We offer state-of-the-art roof washing service near me and function as a roof washing company with the industry-best techniques. Don't hesitate to call us for your Newport Beach roof washing near me today and receive free estimates for your project.
We also offer a variety of other services such as: