Local. Trusted. Family Owned.
Paver Sealing Lake Forest, CA
Top-Rated
Driveway Paver Sealing in Lake Forest
Pavers consistently have to face the hot California sun, rain, humidity, and more. This means that over time, your pavers will start to look aged, dull, and discolored. At The Pressure Washing Guys, you can count on us to restore your pavers with our high-quality paver sealing services.
Searching for
Lake Forest Paver Sealing Near Me?
At The Pressure Washing Guys, we understand that your pavers are a costly investment, and we know the importance of maintaining them. Once your pavers are sealed, they are a lot easier to maintain; however, they still need to be cleaned regularly and resealed every three to five years. Sealing your pavers comes with several benefits, such as; preventing discoloration of your pavers, increasing longevity, and preventing grass and weeds from growing in between your pavers. Sealing them also assists in preventing sand loss between pavers. Sealing your paved driveway will improve the strength of the sand joints in order for them to not lose their shape. When the sand joints are solid, it can prevent your pavers from shifting, prevents bug infestation, and more.
Sealing your pavers allows them to have the much-needed protection they need and deserve from outdoor elements. Due to UV rays, they tend to lose the vibrant and bright color they once had. Sealing your pavers will not only bring back the color they once had back, but it will also protect your pavers from losing their color again. Don't allow the outdoor elements to take the beauty away from your pavers, be proactive by sealing them so the structure and beauty of your pavers last a long time. When it comes to sealing pavers, we ensure that this process is an easy and convenient service for you, as we will be with you every step of the way. To begin the process of sealing your pavers, we will first pressure wash them. We pressure wash your pavers to carefully but effectively remove dirt and stains. This way your pavers will have a good bond with the sealant, and dirt and stains won't be trapped underneath it. We will allow your pavers to completely dry after we've thoroughly cleaned them. Once dry, we will carefully apply the sealant to your pavers.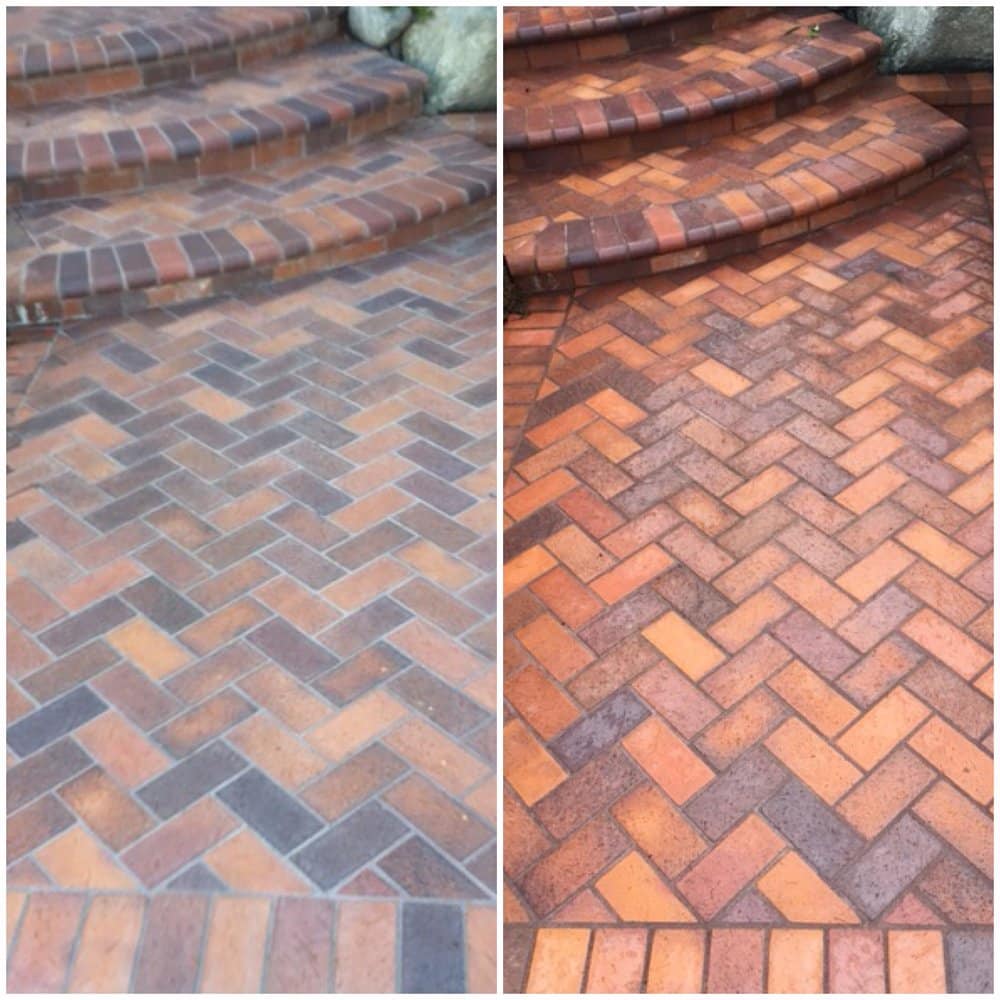 We hired *COMPANY NAME* for *SERVICE* and couldn't be happier with their service! From start to completion they were professional, on time, friendly, and were a pleasure to work with.
We couldn't be happier after the *SERVICE* service from *COMPANY NAME*. We will definitely be hiring them again in the future.
*COMPANY NAME* did an amazing job on our home. We would definitely recommend this company to anyone looking for professional *SERVICE*!
I highly recommend *COMPANY* to anyone who's looking for *SERVICE*. They were very thorough and reasonably priced as well!
Local. Trusted. Family Owned.
Expert Paver Sealing Services Done Right
Call Today for
Paver Sealing in Lake Forest, CA!
It's not uncommon for homeowners to pressure wash and seal their pavers themselves in an attempt to save money. However, our services are cost-effective. Believe it or not, you are saving money by hiring a company to complete this task for you. Most homeowners don't own the appropriate equipment and products to clean and seal their pavers. Therefore, they will have to buy or rent the equipment. Not to mention, they have more than likely, never done this task before. If you're unfamiliar with cleaning and sealing your pavers, you could end up causing more harm than good by damaging your pavers or hurting yourself. Our driveway paver sealing services are convenient, affordable, and we have the knowledge and understanding of this task. We understand which techniques, products, and equipment to use. You can trust us to provide you with the best paver sealing Lake Forest, CA, has to offer.
Sealing pavers improves the curb appeal of your pavers, extends their life, and prevents wear and tear. Have you been looking for Lake Forest paver sealing near me? At The Pressure Washing Guys, we provide the best paver sealing services in the area. To learn more about our paver sealing services, the other services we offer, or for a free quote, make sure you get in touch with our team today!
We also offer the following professional services in Lake Forest, CA: