Local. Trusted. Family Owned.
Top-Rated Roof Washing
in Irvine CA
A tile roof can last for ten, twenty, or more years – but only when it is properly cared for. Part of the routine maintenance you should be performing is roof cleaning in Irvine CA. If you are not sure what this entails, how much it costs, or how to get started, then we welcome your call to The Pressure Washing Guys at 949-514-7749. Keep reading to find out more about the process or just call us now for your free estimate.
Searching for Irvine
Roof Cleaning Near Me?
You can trust that working with The Pressure Washing Guys means you have chosen a company that uses only the most state of the art pressure washing equipment. The cleaning agents we choose are both extremely powerful and eco-friendly. Our technicians are experienced, trained, and are ready to get rid of all damage or undesirable elements to your roof. Roof cleaning in Irvine CA often involves getting rid of more than dirt and grime: It often involves mold, moss, algae, lichen, and more. No matter what you have up there, we can take care of it.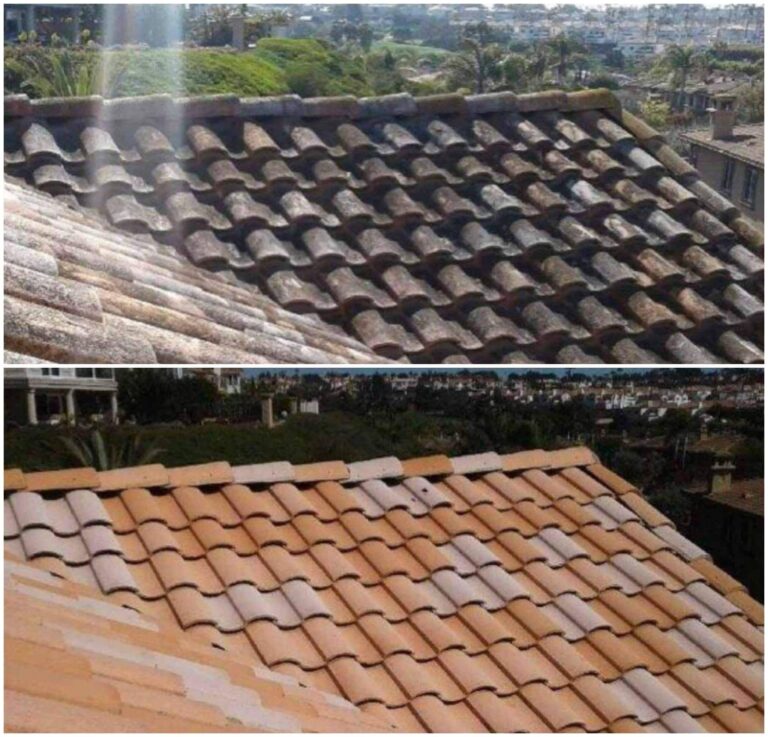 We hired *COMPANY NAME* for *SERVICE* and couldn't be happier with their service! From start to completion they were professional, on time, friendly, and were a pleasure to work with.
We couldn't be happier after the *SERVICE* service from *COMPANY NAME*. We will definitely be hiring them again in the future.
*COMPANY NAME* did an amazing job on our home. We would definitely recommend this company to anyone looking for professional *SERVICE*!
I highly recommend *COMPANY* to anyone who's looking for *SERVICE*. They were very thorough and reasonably priced as well!
Local. Trusted. Family Owned.
Soft Wash Roof Cleaning Irvine CA Residents Trust
Call Today if You Are Searching for
Irvine Roof Washing Near Me
Savvy homeowners often assume that they can handle roof cleaning in Irvine CA on their own. They assume that they can invest in a ladder and a long hose and get it taken care of. This can indeed be a great way to rinse off the roof but it is not a good way to clean it. Likewise, they may consider investing in a pressure washer or renting one. This requires said homeowner to be an immediate expert in how much pressure to use and at what temperature the washer should be set. Making the wrong choice for their particular roof can lead to damage to the home and injury to those working on it.
When you choose the pros you are also assured that every aspect of cleaning will be taken care of – even things you may not have thought of. For example, our customers are often pleasantly surprised to learn that part of our roof cleaning services includes checking gutters to make sure that when we clean their roof, the water can run off correctly.
We also offer the following professional services in Irvine, CA: